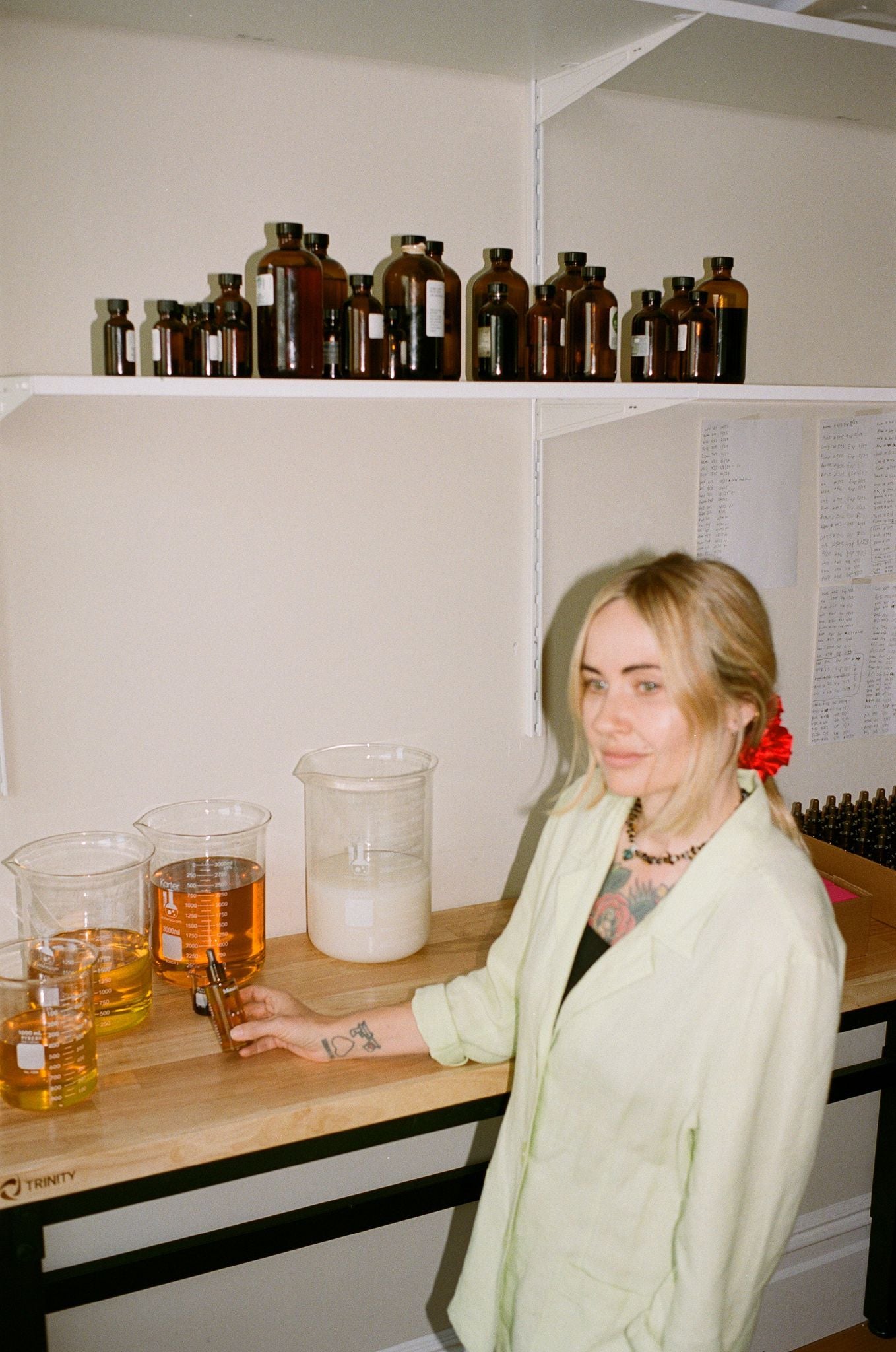 No. 01 — Athena Hewett of Monastery Made
For the debut of our new journal series, we had the honor of chatting with our friend Athena Hewett, Founder & Formulator of the cult favorite skincare line 
Monastery Made
. Regarded for their carefully chosen botanical ingredients and effective non-irritating formulations, Monastery's product range is developed and crafted in small batches at their San Francisco based spa and lab. A staple in our own skincare routine, we are endlessly inspired by the artistry that Monastery brings to the world of skincare. We spoke with Athena about her Greek heritage, where she looks to for daily inspiration, and what "skincare" actually means.
HI, ATHENA. LET'S SET THE SCENE. WHERE DO WE HAVE THE PLEASURE OF SPEAKING WITH YOU TODAY?
I am sitting in my office in Monastery HQ as we call it, which is a Victorian house in Noe Valley, San Francisco. The house is next door to our flagship spa in SF and they are connected by an adjoining backyard. My tiny office (a not so converted laundry room) sits above the backyard space and is surrounded by windows. Today is November 1st and it's fittingly pouring rain, but usually it's super sunny and hot in this room and that's why I initially chose it.
YOU ARE A PRACTICING ESTHETICIAN AT MONASTERY'S FLAGSHIP SPA AND THE FOUNDER OF THE BRAND — CAN YOU DESCRIBE WHAT A TYPICAL DAY IN THE STUDIO LOOKS LIKE FOR YOU?
I see clients 1-2 days a week and the rest of the time I help manage the spa and run Monastery. I bounce in between the offices and the spa all day long. The management of the spa and the e-commerce site are two very different jobs so I definitely rely on my amazing staff to help keep me a little less scattered than I would normally be.
CAN YOU SHARE A LITTLE BIT ABOUT YOUR MEMORIES OF GREECE FROM CHILDHOOD AND HOW YOUR HERITAGE HAS INFLUENCED YOUR SKINCARE PHILOSOPHY? 
I only realized a few years ago that growing up visiting Greece actually had an impact on me. I think it informed my aesthetic and taught me to value quality and owning things that are made in small quantities. For me this relates to foods, textiles, ingredients...everything, really. But yes, my Greek grandmother was my first teacher of all things herbs and flowers. She was a medicine woman and an amazing chef. When she eventually moved to California we would go to the most random places to pick herbs and ingredients. We would go to the side of busy highways to pick herbs that she spotted from the car. She would say that the city won't pay to spray the weeds that are that far away from the road and the farmers won't pay to spray the weeds they consider to be the city's responsibility, so we were safe to pick those. It turns out a big majority of the herbs and flowers that grow wild in Greece also grow wild on the sides of the highways and freeways in California.
IT GOES WITHOUT SAYING, THE EXPERIENCE OF APPLYING MONASTERY'S PRODUCTS IS SO SENSORIAL AND AROMATIC. WHAT IS YOUR ETHOS FOR FORMULATING NEW PRODUCTS AND THE INGREDIENTS YOU CHOOSE?
I usually fall in love with a singular ingredient and then make a product around that one ingredient. The singular ingredient is my muse. Kind of like adorning something that is already beautiful on its own and just adding some accessories to make it more unique – and possibly a little bit more functional.
YOUR EYE FOR BEAUTY IS WRITTEN ALL OVER MONASTERY'S SPA AS WELL AS THE DESIGN OF YOUR PRODUCTS. I THINK MANY WOULD DESCRIBE YOU AS AN ESTHETICIAN AND AESTHETE. WHERE DO YOU LOOK TO FOR VISUAL INSPIRATION?
I look to the past. Books and magazines from the 90's, 60's, and 70's mostly. When we designed Monastery's spa I bought a bunch of books from the 90's from Greece, Italy, and Mallorca that focused on interiors. I kind of do the same for fashion. I just rewatched Leonardo Dicaprio's old movie The Basketball Diaries on a flight and was pausing the movie the entire time to take pictures of the fashion. I think Branden [my husband] thought I was taking pictures of Leo but I was just taking pics of his outfits for me and of his haircut for my son. 
AS A WORKING MOM OF TWO BOYS, WHAT SELF-CARE RITUALS DO YOU PRIORITIZE AND WHAT DOES YOUR OWN SKINCARE ROUTINE LOOK LIKE THESE DAYS?
I run. I started to do it to stay in shape, but now I really do it to stay sane. It's my biggest self care ritual. Running isn't so great for the skin though so it's a bit ironic. My skincare ritual is really simple but I have been putting a much bigger focus on tools recently, for example my gua sha stones. I really do think they make a difference and it makes sense that they would. Awakening the muscles, movement, massaging the meat of your face. That stuff matters. I always use Monastery. Last night I used Monastery's Sage cleansing oil, Rei, and Gold. And I did my gua sha in the Sage step. This morning I ran with a bare face and applied Gold and Attar after.
WE KNOW YOU ARE CONSTANTLY BEING ASKED FOR SKINCARE TIPS, BUT IS THERE ONE PIECE OF ADVICE YOU FIND YOU GIVE THE MOST? WHAT SHOULD WE ALL BE DOING MORE (OR LESS) OF? 
You can't change much about your skin, so stop trying. Those are called medical procedures. If someone wants to go that route, I fully support it, but trying to hope for those types of results from a bottle is just silly. You'll just make your skin look less happy in that process. Really think about the word skincare. Skin. Care. Care for your skin, love yourself, love your skin. Your skin is you, just try to be as good to it as you can – and that starts with ingredients of course. Just like the food you put in your body, skincare is not so different.
View Sommer's curation of Monastery.