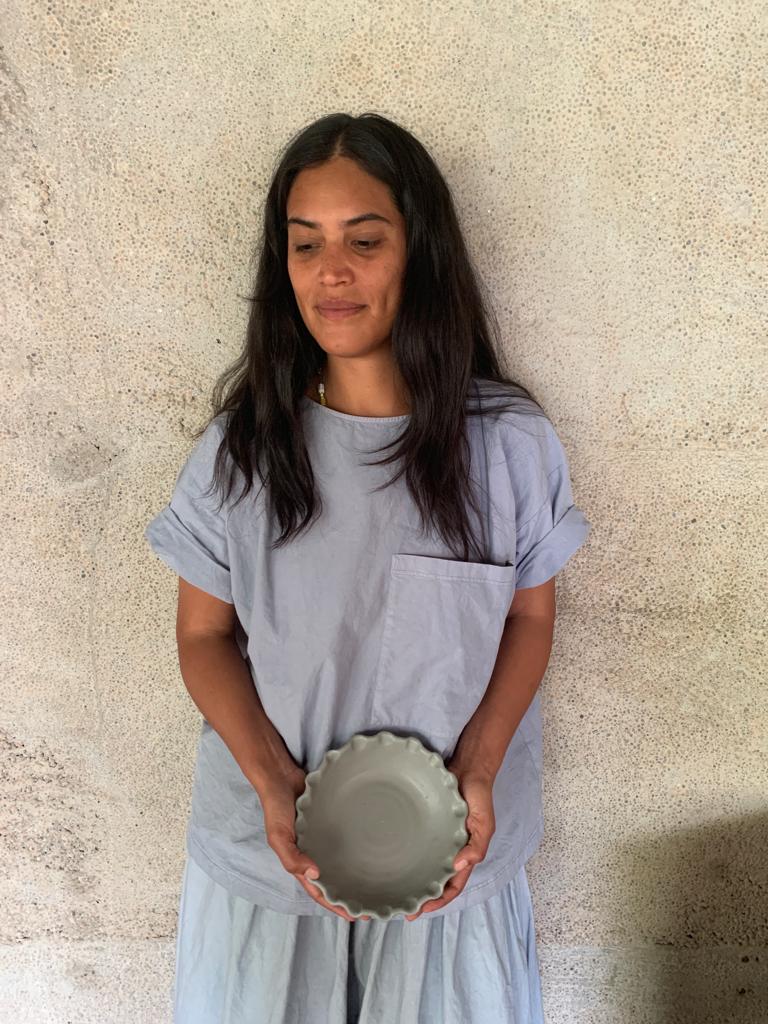 No. 02 — Perla Valtierra of Valtierra Cerámica
After visiting
Valtierra Cerámica's showroom in Mexico City last November, we had the opportunity to interview the woman behind the brand, Designer & Founder 
Perla Valtierra
. Designed by Perla and hand crafted by an atelier of local artisans and creatives in Mexico's Bajío region, Valtierra Cerámica offers a collection of signature ceramic objects & tableware. Born and raised in Mexico, Perla has dedicated her career to studying traditional pottery techniques in countries around the world. Her impeccable taste and passion for craftsmanship eventually evolved into the launch of her namesake line in 2010 and we feel grateful to host a curation of her work here at Sommer.
WHEN DID YOU FIRST FEEL DRAWN TO CERAMICS AND THE PROCESS OF WORKING WITH CLAY? 
I studied industrial design and it was at school that I started [taking] pottery class. I did it as my last credit and I spent 1 semester working in the ceramic atelier. With the project I completed, I won the Utilitarian Ceramic Biennale of Mexico. From there, little by little, ceramics became my passion.
IN ADDITION TO STUDYING  POTTERY TECHNIQUES IN VARIOUS COMMUNITIES OF MEXICO, YOU HAVE ALSO DONE SO IN FRANCE, JAPAN, AND BELGIUM. CAN YOU SHARE WHAT DREW YOU TO THESE COUNTRIES & THEIR INFLUENCE?
I moved to Brussels to do a masters degree and once there, I received a scholarship to go to Japan for a research program [called] "Modern Design and Traditional Craftsmanship". I spent a year in Japan researching and observing the traditions of ceramics, and that year had the biggest influence on me. Once I returned from Japan, I moved to Paris with my husband. In total I left Mexico for 10 years, and of course that time was a very important period for me both personally and professionally, with lots of inspiration and development. 
YOU PARTNER CLOSELY WITH AN ATELIER OF LOCAL ARTISANS AND CREATIVES IN THE BAJÍO REGION OF MEXICO TO PRODUCE YOUR PIECES BY HAND. IN A WORLD WHERE MASS PRODUCTION IS AN UNFORTUNATE TRUTH, IT IS EASY FOR MANY TO LOSE SIGHT OF THE IMPORTANCE OF TRADITIONAL CRAFTSMANSHIP. DOES THIS INFLUENCE OR FUEL YOUR WORK? 
As I mentioned before, I studied Industrial Design, so [from that] I learned all about industrial production. However, I was always drawn to craftsmanship and tradition, so for me [these techniques] were an alternative way to do my work as designer in a more personal approach. What fuels my work is to visit Ateliers that are full of process and knowledge, and from there the ideas come.
YOUR PIECES ARE EXQUISITELY DURABLE AND FUNCTIONAL. CAN YOU SHARE A BIT ABOUT YOUR PHILOSOPHY TOWARDS HOME OBJECTS AND OUR INTERACTION WITH BELONGINGS? 
I was always interested in everyday objects. I had a hard time at the school in Brussels as they questioned my comparison with IKEA. Back then the studio pottery as it [exists] today was still not yet on trend, even though this type of production is millenary. So I struggled and it was hard as I was not able to explain them, this work with craftsmen as we have in Mexico or Japan. Once [I was back] in Japan everything made sense to me, as both countries are quite similar. In Japan I learned a lot about folk crafts, the importance of everyday objects, as they interact with us at every moment. Japan helped me a lot to understand the craft, the objects, and the traditions, and I try to use all that knowledge here in Mexico.
WE UNDERSTAND YOU CURRENTLY LIVE AND WORK IN BEAUTIFUL INSPIRING MEXICO CITY. AS BOTH A BUSINESS OWNER AND DESIGNER, WHAT DOES A DAY IN THE LIFE LOOK LIKE FOR YOU? ARE THERE ANY DAILY RITUALS OR PRACTICES THAT HAVE YOU INSPIRED FOR THE YEAR AHEAD?
I have the luck of living in a very green and quiet area of the city, so I'm lucky to rest well. I love doing chi kung. I have a coffee on the terrace and listen to the only river that hasn't been intubated yet.  I have an office at home and I spend a lot of time here. I enjoy the garden.
View Sommer's curation of Valtierra Cerámica, featuring made-to-order pieces customized in our assortment of glazes.